DEDICATED TO THE BRITISH BOBBY.
RIP 1953
FOLLOWING THE QUEEN'S ABDICATION TO OCCUPY THE CHAIR OF THE ESTATES

Proud to be a 'pudlian.

In My Liverpool Home...

Scousers put the kettle on pretend Police (scuffers) that are breaking the law.



NOT OHMS.
There is no such thing as an honest judge. They all know or are performing in ignorance of the fact the Queen with whose authority they administer justice abdicated in 1953 and
all laws passed and judgements made based on laws signed into force by the imposter are invalid, void, unlawful, unconstitutional, illegal and null.
Because Mrs Windsor
abdicated the Throne of England
in 1953, proven in court to have been
falsely crowned
, (also
see this
) who do the scuffers think they are serving?
Street cops serve their satanic City of London Inc. controlled boss. Freemasons serve Satan knowingly or otherwise. Freemasons perform satanic talmudic rituals, including masking and washing hands. The Talmud is spoken of amongst Torah adherent rabbis as the real Satanic Verses.
Wake up buddies, you've been conned as much as the rest of the people that bankers, peers, royals and other sad, sick ENEMIES OF HUMANITY AND CHILDREN regard as edible sheep.
Does the Police Federation work for the ILLEGAL, FRAUDULENT and
CRIMINAL MASS MURDERING occupation regime, like Cressida?
MASS MURDERING REGIME INC.? YOU BE THE JUDGE.


Video source: https://www.ukcolumn.org/ukcolumn-news-archive 21st October
They have no Federation otherwise they would be on strike for being ordered to break Constitutional and International Laws and basic human rights that no law can invalidate, the right to free speech, freedom of movement and freedom to meet and protest.
BREAKING CONSTITUTIONAL AND INTERNATIONAL LAWS.
MASKS are proven beyond any doubt HARMFUL and can be DEADLY.
They are also a Satanic ritual.
The intended global religion of the NWO is satanic Lucifairyanism. The satanic UN renamed its Lucifer dept to Luci.
Mask Wearing and Satanic Rituals - Christian Observer
The Ritual Wearing of the Mask (Excerpted from: Occult Ritual Transformation and Coronavirus: How Mask Wearing, Hand Washing, "Social Separation" and Lockdowns Are Age-Old Occult Rituals Being Used to Initiate People Into a New Global Order - by Steve Barwick)
LOCKDOWNS KILL
So WTF is the Federation doing if not working against the suckered "Police"?

WE DO NOT HAVE A POLICE FORCE ENFORCING THE LAW.
WE HAVE A PRIVATE SECURITY SERVICE SERVING SATANISTS.
If we had a genuine Police Force and honest judges serving Constitutional Law, Boris the pretender and his fake Cabinet would be behing bars for causing mass deaths by coercion and ILLEGAL regulation. Other MPs? I'm sure many, especially those that voted to approve lockdown regulations are as guilty of treason.
All the above according to what I've read. (Links added.)
Heavens help us if the scuffers don't follow the real law. Otherwise it's anarchy and DIY, followed by an invasion of foreigners.
The hardest to convince they've been fooled are, guess who?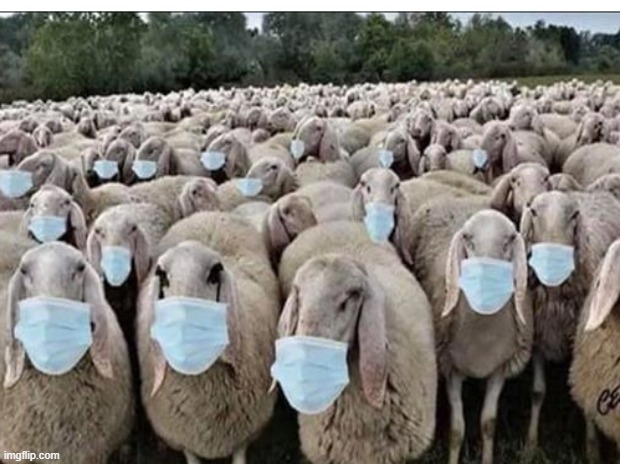 (Image source:
https://i.imgflip.com/3x2iuj.jpg
)
Your mask says I OBEY - TREAT ME LIKE THE PICTURE SAYS & EAT MY LITTLE LAMBS.
---<>---
There is no such thing as a natural virus harmful to humans. If there were, masks wouldn't stop it, it's so small.
No proof the COVID virus exists. No proof of ANY natural virus harmful to humans that is contagious. No test for contagiousness since 1933. Flu is an immune response to non ionising radiation poisoning. 5G is a focusable directed energy grid weapon of mass dstruction.
https://frankreport.com/2020/03/06/5g-is-a-kill-platform-a-directed-energy-weapon-targeting-the-population-with-big-brother-style-surveillance/
https://stop5g.cz/us/5g-is-a-weapon/
https://www.collective-evolution.com/2019/07/31/5g-is-the-ultimate-directed-energy-weapon-system-says-particle-physicist/
https://stop5g.org.uk/short-film-on-5g/
---<>---

There were no legal EU UNION TREATIES
The Johnson regime has continued the treason.
There was a corporation merger attempt, failed when nearly the whole country voted to decline, almost thwarted by intelligence services and other corporation slaves fraudulently perverting the ballot count, as has happened in America with their "presidential election" (UN subcontractor CEO election).

---<>---
The Covid-19 Genocide of 2020 – Claire Edwards Press Conference Vienna
Source: Age Of Truth TV


The entire original video this excerpt came from is here:


https://youtu.be/zbIrTRP-t-Y?t=3999
Published by Namaste Publishing UK
"None of these COVID19 measures are for our health. In fact they are against our health."
"None of them have any authority or legitimacy."

---<>---
UKC keeps getting better. So many have been suckered into believing the harmful natural virus myth perhaps their strategy is the correct course, even were the flu to be more than non ionising radiation poisoning and a bat exosome, modified to be a bioweapon to be real instead of a cover for the (military and or Pharms industry's) 5G DEW mass murder demonstration, particularly in Wuhan and Lombardy.
UK Column News - 9th November 2020
Brian Gerrish, Mike Robinson and David Scott with today's UK Column News.


(
Collapse
)
---<>---

Public Notice of Liability.
Dear Boris Johnson and cronies, acting self-styled Prime Minister and Cabinet,
As a sovereign person, (my original birth certificate is longhand, I have not signed away my rights) I inform you there is an ongoing global genocide being performed by health professionals and by harmful
regime
coercion and legislation. Alleged toxic vaccinations are to be imposed soon, to 'cure' the human immune response to non ionising radiation poisoning pretended to be due to a virus for which no definitve evidence exists, permitted by the self-styled government, apparently. (Seemingly based on the sale of shares in London Bridge scam.)
In Britain this is being imposed by you without legal authority, contravening Human Rights and Law of the Land as well as International Law and the Nuremberg Code. I hold you and each member of the self-styled Cabinet individually and personally responsible.
If any other participant in the self-styled government can be shown supportive of the self styled government's actions, including executives, advisors and the Levy Privy Council members, and Civil Servants that have perpetuated the illusion of acting OHMS, I also hold each of them individually responsible.
Sincerely,
Ian.
Full personal details on application with proof of being one of those responsible.
If anyone has a spare £200k, I'd be willing to bring the treason to Court, probably in America as honest judges in Britain are as common as sabre toothed sparows. I doubt I could get legal aid.
---<>---
Afterword. I looked at Wordpress to host my journal because of the intrusive advertising adopted by LJ, also obliging peeps to log in or sign up to view comments where I was putting a lot of the essentials, perhaps LJ acted at the behest of the Guardian via which establishment propaganda rag I arrived here. Paid accounts only hide ads for the account holder.
Then Wordpress started censoring. Something the peeps at LJ have never directly done to me. So, the Supplemental is a work around.
It will take a long time to move all the comments to supplemental pages. The sign up isn't arduous if you wish to see the full picture in earlier posts.
Thanks for looking in.
Supplemental as soon as I can make it.
PS
Here's the latest on the election fraud (and other stuff, keeps it interesting) from Rumors crew whilst it's fresh. (To be shunted to the supplemental later)
(
Collapse
)
.